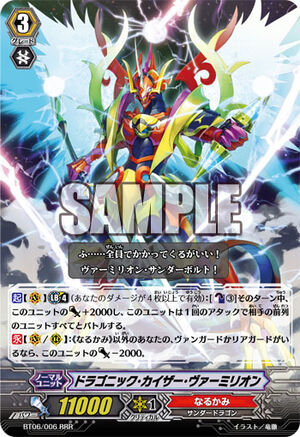 ACT [V]: Limit Break (4)(Available when you have at least 4 damage): [Counter Blast (3)] Until end of turn, this unit gets Power +2000, and battles with all of your opponent's units on the front-row with one attack.
CONT [V/R]: If you have a vanguard or rear-guard which is not a «Narukami», this unit gets Power -2000.
According to the latest pdf rulebook ver 1.07, on guarding, at 8.5.2.2.1:

When you place guards from your hand, you may only choose 1 unit fom your field for the placed guard to guard for.

That rule means that for Dragonic Kaiser Vermillion's ability which can attack multiple units and at the same time, not allow any intercept, you will need to have separate sets of guard for each units being attacked.

As a further update, Bushiroad confirmed the following information about Vermillion's effect via a conversation on Twitter:

1. Vermillion attacks 3 unit at one time.
2. Attacked units cannot intercept.
3. Twin Drive only once.
4. Each unit must be guarded separately.
5. Omniguards can only be used on one unit.
6. If hit, you may activate Aermo's (or clones) skill for the number of hits. (Eg. If hit twice, may drop 2 cards and draw 2 card.)
7. Manadala Lord's skill affect all battles Vermillion is engaged on, meaning Mandala Lord lowers the power of Vermillion for all 3 units, not one.