[M15] Minecraft... I mean, Aggressive Mining
Elite Member





Posts

: 1639


Rep

: 26


Join date

: 2012-04-05


Age

: 22


Location

: London, England

They really got some proper references to the designers, didn't they?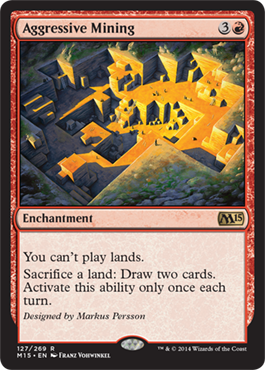 _________________
Legendary Member





Posts

: 8213


Rep

: 45


Join date

: 2012-04-05


Age

: 22

Hmm, I wonder if this is any good? Red aggro always has problems late game, and more often then not they're running mainly 1-3 drops so they don't need all that much land around the turn you'll be able to play this.
_________________
Formerly-Wi Fi Master Jordan
Garazza wrote:You seem to be a jack of all trades. You can discuss most anything and play most card games
Moderators





Posts

: 3549


Rep

: 31


Join date

: 2012-04-04


Age

: 23


Location

: A flying tea saucer.

It's only good if you've already flooded out, at which point it's not good enough because if you're red and aggressive then you're opponent's stabilised and you're essentially dead.

Also the artwork doesn't fit MTG at all, and while I get it's meant to be an homage to Minecraft, Minecraft isn't something remotely understandable in the MTG universe.

All that aside I do really enjoy the design and flavour of the card.
_________________
Just call me Chris
"It's easy to believe you're a god when you're twice as powerful as everyone else."
Admin





Posts

: 5430


Rep

: 76


Join date

: 2012-04-03


Age

: 25


Location

: Maringá - Paraná - Brazil

Zedruu EDH got a new toy :3
_________________
Elite Member





Posts

: 1376


Rep

: 19


Join date

: 2012-04-12


Age

: 29


Location

: Argentina

Rodrigo wrote:Zedruu EDH got a new toy :3
This + Armaggedon = GG
_________________