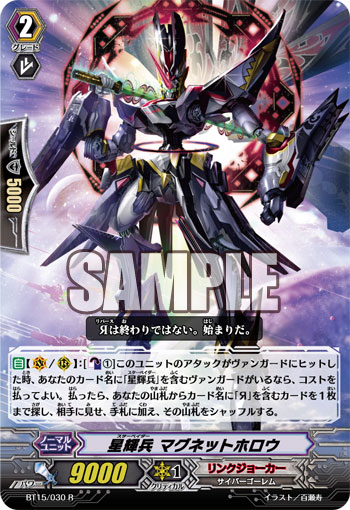 [AUTO](VC/RC):[Counter Blast (1)] When this unit's attack hits a vanguard, if you have a vanguard with "Star-vader" in its card name, you may pay the cost. If you do, search your deck for up to one card with "Яeverse in its card name, reveal it to your opponent, put it into your hand, and shuffle your deck.
星輝兵 マグネットホロウ Star-Vader, Magnet Hollow
"Яeverse is not the end, it is the beginning."
"リンクジョーカー"が誇る制圧戦用半有機戦闘兵器「サイバーゴーレム」。 型式番号は「CG-00150030」、識別コードは「MagneT-HolloW」。 「ナイト・オブ・エントロピー」の量産型として「星輝兵」に支給された兵士。 こちらは元より戦闘用として造られている為、元機体よりも外装が攻撃的に見えるよう設計されている。 "Я(リバース)"化した生物の中には、強化された身体能力により、意図的にでは無いにしろ管理範囲から抜け出てしまう者も少なくない。 この「マグネット・ホロウ」はそれらを回収、時には消去する為にのみ造られた。 彼らは自分の動力となっている純正の「虚無(ヴォイド)」と、それとは違う「虚無」を見分けるセンサーを内蔵しているのである。 "Я"化は終わりではなく、始まり。 これまでの生に幕を引き、新たな自己――"リンクジョーカー"としての生を始める為の通過儀礼なのだ。
A "Cyber Golem", one of the half-organic combat weapons that "Link Joker" uses for Suppression-based combat. Its Model Number is the "CG-00150030", while its identification code is "MagneT-HolloW". This soldier is specifically a mass-produced model of "Knight of Entropy" for the "Star-Vaders". Unlike the original Knight of Entropy, this guy was designed for combat from the beginning, so its exterior is much more aggressive looking the original model. Among some of the creatures that were "Яeversed", their bodies were enhanced, but a few became so strong that they couldn't even be controlled. These "Magnet Hollows" were built to collect, and sometimes, eliminate them. These machines contain senors capable of distinguishing pure "Void" from those who have gained the power of "Void". Яeversing is the beginning, not the end. It is a curtain that pulls the curtain of the old away and reveals the new, true self… … It is a rite of passage for those beginning their life as a part of "Link Joker".
【星輝兵(スターベイダー)】

「虚無(ヴォイド)」の化身にして惑星クレイを脅かす侵略者、"リンクジョーカー"の先兵。 原生生物を調査して強者のデータを収集、可能なら素体そのものを支配下に置く事を主目的とし、その過程で収集に値しないと判断された対象を消去しているとみられる。 クレイには存在しない数多の技術を保有し、「呪縛(ロック)」と呼ばれる未知の力を自在に操る。
The Star-Vaders are…
The vanguards of "Link Joker", the invaders threatening the planet Cray who are the embodiment of "Void". Protist-like micro-organisms collected and examined the data of the planet's strongest, and were further programmed to take control of the bodies of worthwhile subjects, while those deemed useless or weak are to be erased. Among the various technologies and powers unknown to the planet of Cray, one of those is the strange, unknown power called "Lock".