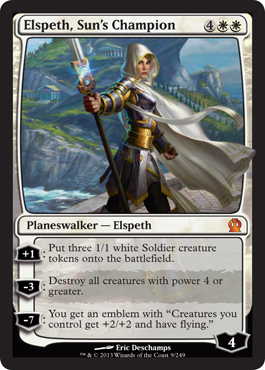 So, after theorising, I'm going to just say that I feel Elspeth is the best control finisher possible given what we know so far about the coming format. Yes, that means better than Aetherling, better than Assemble the Legion, better than Angel of Serenity and better than being Bant control and bashing with big dumb green stuff.
Unlike Aetherling, she can actually be cast turn 6 and add a huge amount of defence to the board, and Theros appears to be really helping the whole "go big or go home" version of midrange decks, which her -3 shines against. Her +1 outraces an Assemble the Legion for 7 turns, which is insane since if you ever last 7 turns with Assemble in play, your opponent already scooped, while she's also likely less killable and available to more decks due to her non-Enchantment type and being monocoloured, respectively.
Angel loops are, put simply, far too easy to stop to be considered, imo.
Bant lost Farseek which was the reason to play Bant anyway, so that's pretty much a non-argument.
Seriously hope I can get multiples of her asap.
Oh and any Planeswalker with art by Eric Deschamps wins like infinite style points. Welcome to the group of the most badass 'Walkers around, Elspeth.