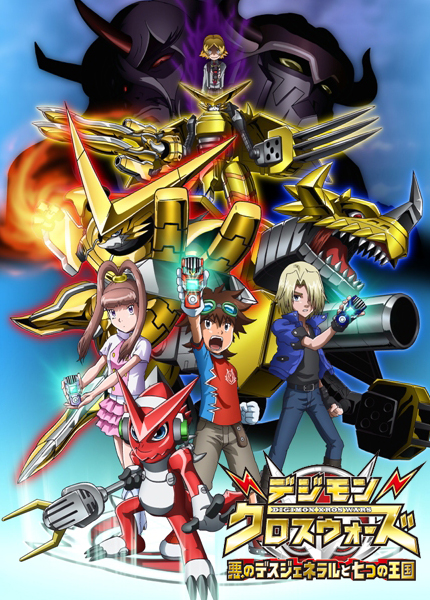 "Digimon: monsters who are born in the digital world. Although they're made up of data, they can also cry, laugh, and fight like we do. They're our important friends! Let's gather up as many teammates as we can! Come along with us in our adventure through this world!"
―Narrator
Digimon Xros Wars (デジモンクロスウォーズ Dejimon Kurosu Wōzu?), pronounced Digimon Cross Wars, is the sixth anime series in the Digimon franchise by Akiyoshi Hongo. It is divided into three seasons, with the second titled The Evil Death Generals and the Seven Kingdoms (悪のデスジェネラルと七人の王国 Dejimon Kurosu Wōzu: Aku no Desu Jeneraru to Nanajin no Oukoku?), and the third titled The Young Hunters Who Leapt Through Time (時を駆ける少年ハンターたち Toki o Kakeru Shōnen Hantā-tachi?). It is the first Digimon anime series to not have an associated movie.

Its first episode aired on July 6, 2010 on TV Asahi, making it the first season in the series to air on another network in Japan (Fuji Television aired all other seasons prior to Xros Wars). Three and a quarter years after the end of the fifth season, a new sixth series was confirmed by Bandai for the Digimon anime. The official name of the series was revealed in the June issue of Shueisha's V Jump magazine. The art style for the series is more like the first four seasons than that of Data Squad, and traditions such as the Goggles have been brought back. It is also the first Digimon series to be broadcast in Widescreen and in Hi-Def. No official word has been released on whether it will be dubbed and aired in North America or Europe, although Toei has filed a trademark for a "Digimon Fusion Battles" with the US Patent and Trademark Office.
Let's discuss a legitimately good Digimon Series that should actually be watched before called terrible.
...
No, not the sequel.